Reel News

Did you miss out on an article or issue of ReelDV? Then this is an exciting area for you, it will have a library of downloadable files in Text, Video & Audio formats. We hope to make this section be one of the best in online experiences. Now you don't have to miss out because you were out of town, here, you will find a complete historical archive, of all our entertainment news, interviews and events, from all over the world.
Do you have a good story for ReelDV?
Write to:
Media 4 Concepts LLC
attn: Press Dept. ReelDV.com
P.O Box 20374
Park West Financial Station
NYC., NY 10025
All Rights Reserved Media 4 Concepts LLC 1999-2003

---

---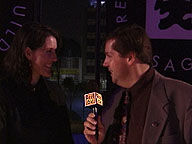 On 11/13/99 in Hollywood, SAG throws a party in conjunction with RES Magazine and RES Fest in honor of 30 years of Low Budget Agreements. SAG's Indie Outreach Director Shawna Brakefield talks about the agreements.
(Click on photo to see video clip) or (Down load Quick Time 4 Player to see clips)