Welcome to the One Stop Shopping Mall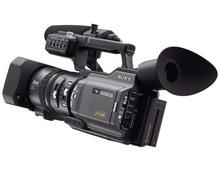 The new DSR-PD170 DVCAM compact camcorder provides high quality acquisition in the DVCAM component digital format, as well as in DV,allowing up to 40 minutes recording on one tape Mini DVCAM tape, or 60 minutes on the same tape in the DV mode. This compact camcorder features three Advanced HAD 1/3 inch CCDs that allow two scanning modes: 480 progressive (for still) and interlaced (for video). These Advanced HAD™ CCDs also provide high quality acquisition with increased resolution and sensitivity at reduced noise and vertical smear. The new enhancements to the CCDs have enabled the minimum illumination to be improved to an incredible 1 lux. The DSR-PD170 also features a built-in slot for MemoryStick®. Up to 988 JPEG pictures can be stored on one 64 MB MemoryStick®. In addition, the stored images can be mixed or keyed to the live image allowing logo insertion and/or mix effects. The built-in high MTF quality 12X electronic zoom lens features Auto focus and SuperSteadyShot™ with manual Zoom, Focus and Iris control capability. Other enhancements from the DSR-PD150 include a larger high-resolution B&W viewfinder and a newly developed color swing out Hybrid LCD with greater brightness to increase monitoring capability in bright light conditions. The DSR-PD170 now has a larger handle with start/stop functions as well as zoom control on the handle for easy access and enhanced shooting capabilities.
Manufacturer SONY PROFESSIONAL
Model Num DSRPD170
Product Group Cameras & Camcorders
Product Type Camcorders
List $3,940.00
ReelDV Price$3,546.00
Shipping Weight: 10 lbs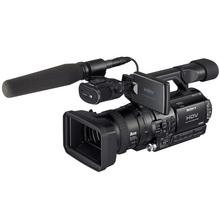 New 3CCD 1080i HDV camcorder is here! The new HVR-Z1U features three newly developed Super HAD 1/3" CCDs. These new 16:9 native CCDs, combined with a high quality 12X Optical Zoom Carl Zeiss Vario-Sonnar® T* Lens and Sony's new 14 bit A/D and DXP Digital Extended Processor, result in precise image acquisition with superb detail and clarity. The advanced CCD design allows more light to reach the pixel imager, reducing video noise and improving the signal-to-noise ratio. The new HVR-Z1U records this exceptional imagery using the recently adopted HDV 1080i format onto a DVCAM™ mini cassette. Please note that the directional shotgun microphone is not included with this camcorder. The Supplied Accessories are: AC-VQ850 AC Adaptor/Charger; Remote Commander® Unit RMT-841; A/V Cable; Component Video Cable; Shoulder Strap; Large Eyecup; Shoe Extender; Lens Hood with Integral Lens Cap; NPF-570 InfoLithium® "L" battery

Manufacturer SONY PROFESSIONAL
Model Num HVRZ1U
Product Group Cameras & Camcorders
Product Type High Definition
List $5,946.00
ReelDV Price $4,900.00

Specs
Shipping Weight: 10 lbs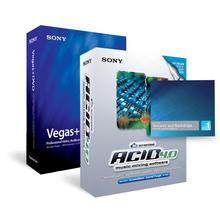 Product Info
Vegas 5 video and audio editing software, plus DVD Architect 2 for DVD authoring. In addition, the package includes Screenblast ACID for royalty-free music creation, and Vision Series Vol. I 3D Textures and Backdrops.

Manufacturer SONY SOFTWARE
Model Num SFVDVDSB5000
Product Group Audio/Video Software
Product Type Video
List $899.95
ReelDV Price$599.95
Specs
Shipping Weight: 1 lbs

JVC PRO JY-HD10U

Product Info
HD record/play on Mini-DV tape using MPEG-2 • Records 1280 x 720 30P • Also records standard definition Mini-DV, and 480 60P (MPEG-2 mode) • 1/3-inch single 1.18 million pixel CCD • Newly developed HD 10X lens with Optical Stabilizer • 2 XLR audio input connectors (unbalanced) • Still image capture, MPEG-4 clip capture (8MB CF memory card incl.) • Color Bars • Mic holder • 180K pixel LCD Viewfinder • Rotary-type Lens Grip • IEEE1394 interface • Bundled MPEG2-HD edit software ?MPEG Edit Studio Pro 1.0 LE?
Manufacturer JVC PRO
Model Num JY-HD10U
Product Group Cameras & Camcorders
Product Type HD Camcorder
List $3,995.00

Specs
Shipping Weight: 3.5 lbs